About the Survey
Public opinion and input are integral parts of any planning effort. Since the first VTrans Transportation Survey in 2004, several similar formal and informal surveys have been conducted. The 2022 survey will inform the following planning tasks:
Please refer to the Technical Memorandum: Methodology for the 2022 VTrans Biennial Transportation Survey for more detailed information.
Any information gathered will be kept confidential as required by law. All collected data will be used for research purposes only. A summary of the results will be published at the end of the survey effort.
Survey Administration
The Office of Intermodal Planning and Investment has retained the services of WBA Research for survey administration.
WBA Research will select a random sample of residential addresses in each of the nine VDOT construction districts. and mail letters introducing the study and explaining the following three options for residents over age 18 to participate:
Online: Each letter will contain a web address linking to the online survey and a unique password to access the survey. The survey can be completed online in English, Spanish, and Simplified Chinese.
Schedule Call: The resident can also call a toll-free telephone number, where they will be asked to leave a message providing their name, telephone number, and a time when they can be reached.
Receive Call: For each address with an accompanying telephone number, that household will be informed that they may receive a call from WBA Research asking them to participate.
WBA Research will also send reminders approximately one week after each initial mailing.
The original invitation letter will appear as the following: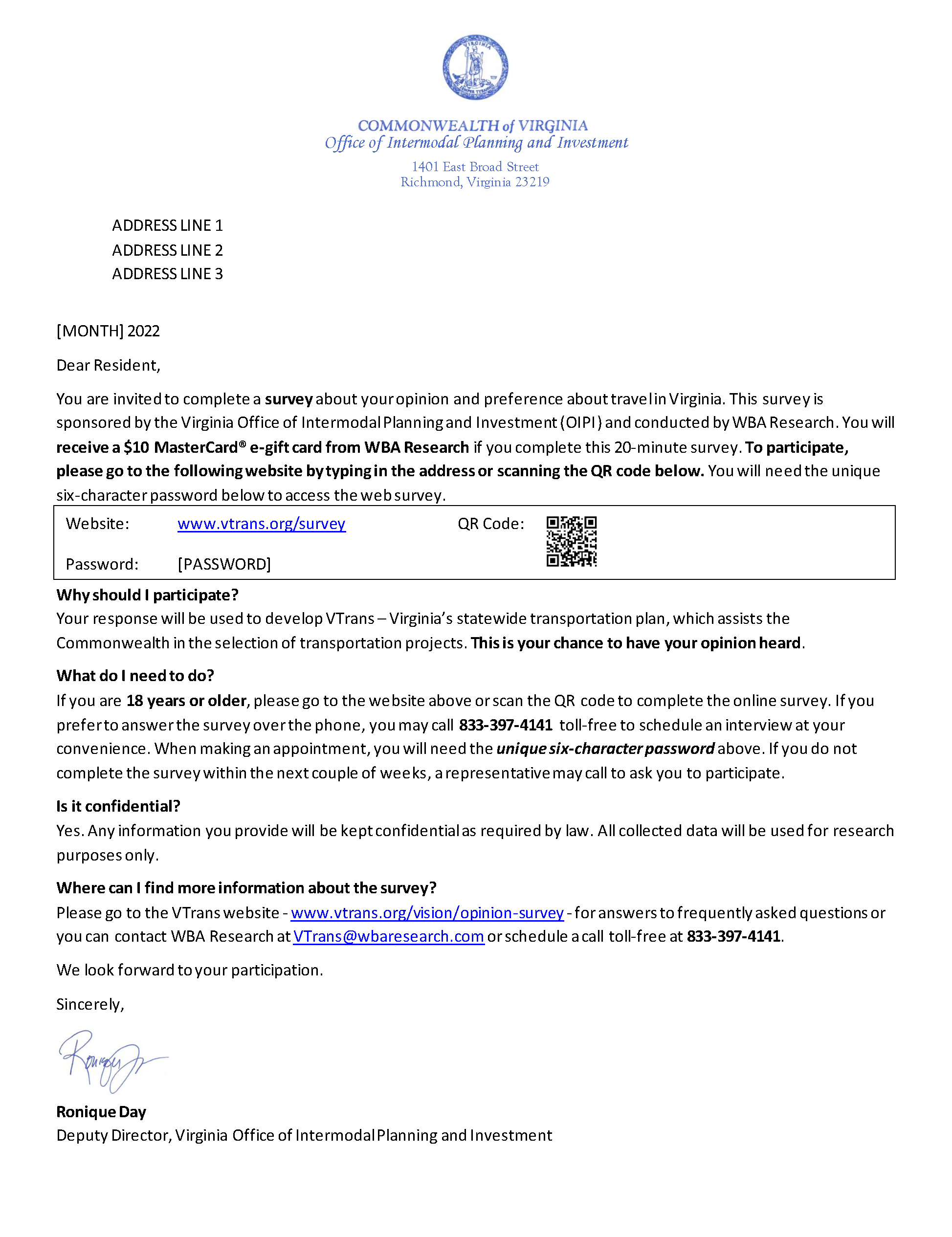 Survey Timeline
A tentative survey timeline is included below. The dates are subject to change based on the number of responses received.The actual survey may take longer if WBA Research does not have the required number of surveys from nine construction districts.
| Activity | Brief Description | Start Date | End Date |
| --- | --- | --- | --- |
| Pretest recruiting | Invite select participants to test the questionnaire | May 31, 2022 | June 10, 2022 |
| Conduct pretest | Test questions to ensure that they are clear to as many respondents as possible | June 13, 2022 | June 15, 2022 |
| Mail invitations to participate in the survey | Invite residents over age 18 at the randomly selected address to participate in the survey | July 29, 2022 | August 15, 2022 |
| Send reminders | Send reminders to residents over age 18 to complete the survey | September 9, 2022 | September 9, 2022 |
| Analyze results | Perform analysis and gather insights to inform transportation vision | October 4, 2022 | October 14, 2022 |
| Final Report | Develop a summary document | October 17, 2022 | November 11, 2022 |
Contact Us
WBA research has established a toll-free number, 833-397-4141, to answer any questions related to the survey. The Statewide Transportation Planning team at the Office of Intermodal Planning and Investment (OIPI) is also available for any detailed questions. Please contact us using the information on this webpage.